Archive for the 'Organization' Category
I really like digital organization. I talked a few weeks ago about how much I love the app Motivated Moms. I use a Google calendar, organize pictures digitally and in an upcoming blog I will talk about my love of Pinterest and how I use it to help me with so many things. That said, there is still paperwork in my life and things that I need to have on hand regularly that it is useful to have hard copies of. For these things I have what in my house is referred to as the Household Binder.  I keep it in a cabinet in the kitchen so it is easy to grab and refer to when needed.
All I used to make mine was a 2″ binder in a color I liked, lots of page protector sheets and Post It Durable Filing Tabs.  I love these filing tabs because you can stick them directly to the first page protector in a section. They are so much better than the three hole punch binder dividers because those end up being shorter than the page protectors and don't make your sections easy to see.
Here are the sections in my binder and what I keep in each. Read the rest of this entry »
Starting a new segment here. Every so often I am going to talk about some of my favorite things. The  products I love to use when organizing. This week…closetmaid systems.
I love these cubby type shelves and literally have them in almost every room in my house. They can be used for storing lots of different things, they come in a variety of colors and sizes and they are inexpensive. Right now inexpensive is key for me. For one thing, most of my storage needs right now are temporary…there will come a day when I don't have toys, picture books, lego creations and "next-size up" clothing to store. Also, it allows me to rearrange a room on a whim…something my husband would tell you I do way too often. And finally, I don't need to stress about them getting scratched or dinged. I have three little ones of my own and constantly have other people's kids over here. Right now I don't need to make myself crazy by buying expensive shelving and worrying every time a kid goes near it.
Here are some of the ways I use them in my home: Read the rest of this entry »
Funny story. My new favorite app for my iPad, the one that helps me keep my house clean, is actually one that I not only refused to get but about which I teased the friend who told me about it. Why on earth would I want an app to nag me???
Ok, so let me tell you why I LOVE IT and why you will too! Read the rest of this entry »
So you have too much cleaning to do and not enough time. How do you get it all done? One idea is to have someone else do it for you..nope not talking about an expensive cleaning lady…I am referring to those little people who live in your house.  No more living for free….put them to work! In all seriousness though, the chore system that I have recently set up for my kids is one of the biggest helps to me in getting it all done. For the past few years I have been trying to figure out a good system for chores, for rewarding good behavior and for consequences for misbehavior and I think we have found a winner. Read the rest of this entry »
I was cooking dinner the other night and searching for a spice that I don't use that often and was inspired to clean up the spice cabinet. There are two great advantages to an organized spice cabinet.
1. It makes the process of cooking dinner go faster when you can actually find what you need.
2.  You can avoid this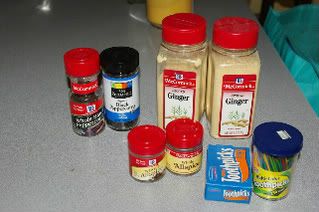 Seriously, how many times have you bought a spice because you couldn't find any only to discover later that you had some all along?  Such a waste of money and time.  Especially when it will only take you ten minutes to get this under control. Read the rest of this entry »
Happy New Year! Ok, a little late but two weeks of a stomach bug running through my house put me a little off schedule. In honor of the new year I am happy to be getting back to blogging and helping you get your homes and your lives organized. In previous blogs we tackled big projects -clearing out the clutter in the garage, organizing the pantry, getting all of the toys under control. For this new year I would like to focus on small steps that can help you keep your home organized and your days running more smoothly. I will share with you some of my favorite organizing products, share tips on keeping up with the endless list of "to do's", and tackle some small, easily manageable projects around the house.  But what I am most excited about is an idea to make this blog even more useful to you.  I would like to tackle your actual problem areas.  In addition to my "tips and tricks" I will be answering some of your email questions with an "Ask Erin" segment.  So if you have an area of your house that you would like to know how to declutter, or storage problems that you would like solved, or if you need some ideas keeping up with your daily tasks email them to me.  Simply send an email to addressthemessli@gmail.com and put in the subject "Ask Erin." Be as detailed as you can with your question and include pictures if applicable.  You just may see your question in a future blog post.  Lastly, if you are on facebook. Please find me at Address The Mess and be sure to "like" my page.  Happy Friday!!