Archive for the 'Giveaways' Category
Want to help test out a NEW Giveaway format? We would love your opinion and are hoping to make our events even better by making the process easier on all of you to enter!
For helping us out and giving this new format a test drive, you'll be entered to WIN a $10 Kohls Gift Card AND a $5 Starbucks Gift Card!
So take it for a spin and let us know what you think! Read the rest of this entry »
Do you you want to break away from the boring, old backpack strap? Then Gutzy Gear is for you! Check out my Gutzy Gear review here.
Grand Prize: 1 Gutzy Gear Party Pack to WIN and 1 to GIVE

It happens every year at Christmas. The anticipation builds for weeks and weeks until the big day. Tons of beautifully wrapped presents under the tree get torn open in minutes in a frenzy of excitement as mom and dad sit back and watch with giant smiles on their faces, relaxing on the couch. Wait, what? It's not like that at your house you say? Maybe you have a more common scenario like the one I have at my home. The first part is the same, anticipation, wrapped presents, excitement, yadda, yadda, yadda but with one small, significant difference.
Problem: 

Once the presents are opened the real horror story begins. Imagine two very persistent boys begging you to open their new toys at the same time.



Solution:

 Hard, annoying plastic packaging is no match for the Open It! Now you can open all those toys quickly and safely!
We love spending almost every summer day down at the beach with the kids. Since I like to be comfortable while I am out, I like to find products that help me enjoy my time out with the kids. Sometimes this means trying out a whole bunch of products (or having alot of mommy friends) to see what works (and what doesn't)
I try to use as much sun protection as possible to keep us all safe from the suns harmful rays and that means a great sunscreen, swimshirts and nice big umbrella to hang out under. I have gotten our most of our sun accessories down to a science but I still have not be able to successfully keep my umbrella up and with my family! I have used all sorts of gadgets from Walmart and Target but to no avail. My umbrella seems to want to be  anywhere but with me! Read the rest of this entry »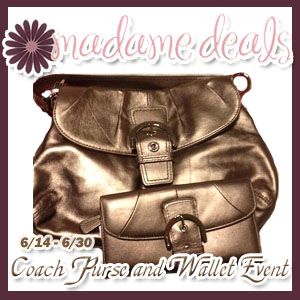 A girl can never have enough accessories, right? Here is an easy way to WIN a Coach purse and wallet. Good luck!!! Read the rest of this entry »
Madame Deals Events is bringing you another great giveaway:
How would you like to WIN a 26″ 720p LCD HDTV??