My oldest son J1 will be turning 5 in July and will be entering kindergarten this September. He currently attends preschool and rides the bus (which he thinks is the greatest thing since sliced bread.) He has made friends with a few of the boys on the bus and is constantly coming home with various cars, trucks and planes. I make it very clear to him that these toys are a loan and must be returned to the owner the next day. He gets this concept very well.
My mommy brain led me to believed that ALL parents follow this rule of thumb (silly me) so I let him take a brand new Transformer that took a week of good deeds to earn to school. It was awarded to him  on Sunday (there was a sticker chart and everything!) and on Monday afternoon when he got off the bus, I was informed that his new toy was given to a schoolmate as a loan. My 4 year old son assured me that his 4 year old friend was good for it and not to worry….yeah, ok! Two weeks and one handwritten note to this child's mom later, the toy has not arrived home. I don't blame the mom for the missing toy as she might not have ever seen it but I wanted to let her know that she might have a extra toy floating around. At this point, the only way this toy might ever make it home will be because of the  customized labels I put on every toy and school item I hope to see again. Read the rest of this entry »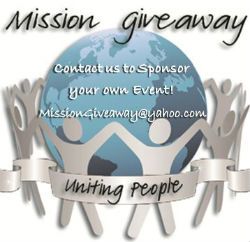 I love using Saving Star to help me take my couponing to the next level and this week I love them even more for sponsoring this week's Mission Giveaway!
Grand Prize: $75 Amazon to WIN, $25 Amazon to GIVE
(you will win $75 for you and can pick a friend to give $25.) Read the rest of this entry »
Are you looking for that perfect gift for your grad? How about getting it for FREE? Enter this week's Mission Giveaway for your chance!
Grand Prize: (2) $50 Hip Fusion Designs Gift Certificates
$50 for you to WIN and $50 for you to GIVE a friend!
Plus, check out this special offer for Mission Giveaway readers:
A "Possibilities Necklace" will be included with every single order ($40 minimum) from now through May 25th. Just enter the code "SUPERCOOL" at check out. With a word this inspiring, you'll want to shout it from the roof tops! Save your voice and wear it on your neck. So go ahead! Treat yourself or how cool would this design be for a graduate? And it's FREE! This special deal is the type of offer you will be privy to on an ongoing basis as newsletter subscribers. You can sign up for the Hip Fusion Designs newsletterat the bottom of the Hip Fusion home page!
Wearable Art ultra-cool & hip handcrafted metal clayand dichroic glass jewelry. Get hipped with my handcrafted jewelry, all pieces incorporating my fused metal clay and dichroic glass elements, and all created with my attention to every single detail and tip-top quality…guaranteed. Every piece is a work of wearable art. I'm here to help you create your very own wearable art collection that captures your individual personality. Check out this great review of Hip Fusion Designson Slop Swap.
Here's How You Enter:
The Giveaway will open up on Tuesday 5/22 at 12:01 am EST and Close on Friday 5/25 at 11:59 pm EST.
1) Start at the Rafflecopter Giveaway form.
2) Complete the Mandatory entries.
3) Work your way through the links, entering contests at each blog as you go. These contests each have their own rules and end dates.
4) Complete additional entries towards the bottom and come back for additional daily entries!   That's it! You have successfully entered this awesome giveaway! Side note…It's not mandatory that you enter all the giveaways at each blog. However, doing so not only increases your chances of WINNING the other prizes, it increases your chances of WINNING the Grand Prize!
a Rafflecopter giveaway
Mission Giveaway started with the $100 Story where with $100 several people received the help they needed. We are on a mission to help people! We have gathered a group of bloggers that want to make a difference. Together we are the Mission Giveaway Group! To inquire about becoming a sponsor, please contact Amee or Dawn at missiongiveaway@yahoo.com for details. Take a look at our Media Kit to see what Mission Giveaway has to offer. Are you a blogger that would like to participate in Mission Giveaway? Find out how you can join us. The amazing Blogs participating in the event this week are: Slop Swap|Madame Deals|Semmes Savers|Moms Living Thrifty|This Flourishing Life|A Mom's Take|Bargains4Wahms|FurKid Fosters|Eco Baby Mama Drama|The Coupon Sweeper|Coupon Savings in the South|The Interrupting Cow|Colleen's Book Nook|Confessions of an Overworked Mom|Super Frugal Stephanie|Coupons with Q|The Socialite's Closet|baubles, accoutrements and garb|Wishful Thinking 247|The Mommy Island|Taking Time for Mommy|Put A Little Umbrella In Your Drink|Living at the Whitehead's Zoo|A Thrifty Diva Surviving Mommy Hood|Have Kids Will Coupon|Mommy's Money Saving Obsession|Moms Saving Money|Jenns Blah Blah Blog|And The Little Ones Too|Become A Coupon Queen|iSave A2Z|Royalegacy Reviews and More|Let's Win|Whirlwind of Surprises|More from Mom|Makobi Scribe |Heavenly Savings|How Was Your Day?|Diva Fabulosa| Rowell Reviews| Check out how entrants would pay it forward this week and enter your own comment:.
I am a gadgety/gear type of gal. If something is super useful to me, makes my life easier and is cost effective (BONUS!) I an all over it! My husband tends to tease me about needing certain products instead of just going basic but since I am the one home with the little monkeys all day he tends to give in to my madness : )
When I first started potty training my oldest (J1, almost 5) It was an interesting process. I visited websites, bought books, watched videos, consulted with friends and bought seven (yes seven!!) potty-type devices. While most of them served some sort of purpose at the time, I really could have skipped at least 5 of them. I still use one but will discuss that one in  my next potty training  post. Now that J1 is fully potty trained and I have received on-the-job-training I am in the process of potty training J2 (almost 3).
The potty training process has been similar with both kids but with a twist. J1 is very tall and trained late so the little plastic potty on the floor was not an option for him. He preferred sitting on the toilet which presented a whole other set of difficulties. Thankfully, this time around, J2 loves to use the potty at the same time as his brother so he is loving his own plastic potty.
Currently I am having three issues with the potty seat I already owned:
Little or no splash guard. I plea ignorance on this one. I had no idea how important this feature would be for my sanity. Thank goodness for Clorox wipes!
J2 is on the tall, skinny side so his tiny bottom leaves a huge margin of error (e.g. he pees everywhere unless we remind him to sit all the way back and hold his winky down)
Emptying and cleaning a plastic potty stinks (literally!)
When I was given the opportunity to review the Pourty I was very excited (my husband…not so much) to try this out with J2 to see if it made a difference.
The very first thing I noticed (and LOVED) is the high splash guard. If you have ever potty trained a boy you know how important this feature is (unless of course you enjoy cleaning up puddles) That teeny-tiny 1 inch splash guard you see on most potty seats does not cut it!
Another feature that I found in the Pourty was the comfy wide seat. It slightly higher and wider than most one piece potties making it ideal for a taller child. As I said before, J2 has a hard time finding a comfy position on his current potty.  The Pourty takes the guess work out of where to sit. The most comfortable place for J2 to sit is the best, cleanest place. There is little to no chance of him making a mess outside his new potty. This makes mommy very happy.
The final feature that made this potty stand out for me was how easy is was to empty and clean. The pourty is one solid, smooth piece which means it can be easily rinsed out and sanitized after each use. After use, the contents are easily poured into the toilet or sink through the back of the potty keeping your child away from any possible mess. The handle makes pouring even easier. This is especially important when you have a child in the "I can do it stage"
Buy it! The Pourty retails for $14.95 and is available at several major retailers including Amazon.com and BabiesRus
Win it! One lucky Have Kids Will Coupon reader will win their very own Pourty in whichever color they choose (blue, pink, purple or white) Just enter the easy Rafflecopter form below
As moms, we tend to take care of the kids, our spouse and everyone else FIRST and put ourselves last. Taking care of our health and wellness  helps us take care of our families better and subscribing to Klutclub helps you do just that. Subscriptions range from $16-$18 a month and are tailored to your specific goals. Read the rest of this entry »
Do you have a man in your life that deserves the ultimate Father's Day Gift? Then look no further. Now is your chance to win some cash to furnish his man cave with whatever he wants. Hurry…this contest ends June 8th at midnight so enter today!

Read the rest of this entry »