Archive for January, 2012
When my kids were born I made a promise to myself to introduce them to every healthy food I could. I made my own baby food and created my own blends that included kale, broccoli, spinach and many other super foods. It was easy back then. if I mixed the greens with sweet fruits, both boys at it without complaint. I felt like the luckiest mom in the world! That was  until my oldest turned 18 months old. My"eats anything' baby picky switch finally turned on. It was awful. I made due back then by sneaking veggie purees into beloved foods like waffles and pancakes for a sure thing and kept offering different foods again and again. Let's just say a lot of food was unfortunately thrown out (or eaten by my husband) Read the rest of this entry »
After the holidays my husband and I decided to start a major spring purge early and with that purge came a ton of cleaning. I was recently given the opportunity to try out a bottle of Greased Lightning and thought this was  a great time to try it out on a few surfaces throughout the house. Read the rest of this entry »
Click here to request your free sample of Quaker Oatmeal Squares!
Have you seen these super cute shoes from TOMS Shoes? These comfy little numbers come in sizes 5 – 12, are only available for a limited time and would be a perfect gift for the shoe lover in your life or as a special treat to yourself. Read the rest of this entry »
I was cooking dinner the other night and searching for a spice that I don't use that often and was inspired to clean up the spice cabinet. There are two great advantages to an organized spice cabinet.
1. It makes the process of cooking dinner go faster when you can actually find what you need.
2.  You can avoid this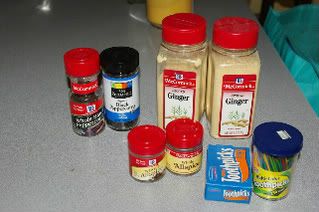 Seriously, how many times have you bought a spice because you couldn't find any only to discover later that you had some all along?  Such a waste of money and time.  Especially when it will only take you ten minutes to get this under control. Read the rest of this entry »
Way back when, in a land far, far away lived a girl without a care in the world. Each day, she would get in her car,  attempting to drive from point A to point B as quickly as possible within "range" of the speed limit. If someone cut her off, well, she  would have a certain gesture just such occasions . Life was simple. Life was easy. That is, until she became a MOM. Read the rest of this entry »