Archive for December, 2011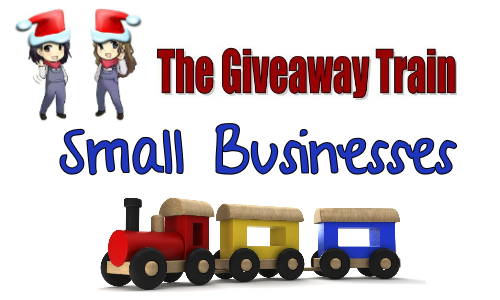 Do you like to save money AND have a great chance at winning some amazing prizes? Well I do and I have found that entering contests to win great prizes is an easy way to pay for Christmas!! I have gathered some friends and we are all offering super prizes on our sites. We are part of the Giveaway train. This Week we are featuring Small Businesses on the Train and they each have a prize to offer! Read the rest of this entry »
Do you like to save money AND have a great chance at winning some amazing prizes? Well I do and I have found that entering contests to win great prizes is an easy way to pay for Christmas!! I have gathered some friends and we are all offering super prizes on our sites. We are part of the Giveaway train. This Week's grand prize is a $250 Walmart Gift Card! Read the rest of this entry »
Congrats to Sarah W! You are the winner!
Winter is just about here and it is COLD in NY. Oil is a small fortune as well so we try to save where we can and that means warm and cozy blankets! My all time favorite type of blanket for this time of year is a warm, cozy blanket like this Springs Home Supersoft Plush blanket from Mertado.com . I love these blankets because they are lightweight but super warm. I have had a lot of these in the past but this one was by far the softest one I have ever had. As you can see here my husband is enjoying my blanket with a little snooze on the couch. I may never get it back : )  Read the rest of this entry »
This is a Sponsored post written by me on behalf of Slim-Fast for SocialSpark. All opinions are 100% mine.
Every year I make the same resolutions: organizing the house, getting more exercise and of course LOSING WEIGHT! With two little boys and the business I run from my home, it is very challenging to eat a balanced diet so I can lose the weight I have been slowing putting on after I had my children. I love to cook healthy meals at home for dinner so that has always been the easiest way for me to control my calories. My biggest challenge, however, tends to be during the day. I am constantly on the run with my children so I tend to just grab something quick and easy. The problem is, it is not always a healthy choice.
Read the rest of this entry »
Recently I hosted a MommyParties sponsored by Oral-B Stages. It was a fun way to get kids excited about brushing and caring for their teeth and who can't use little help with that? My first child easily learned to brush but my second is very stubborn so any help I could get would be great! For the party, I was provided with everything I needed for the kids to have a great time: Disney's Winnie the Pooh DVD, popcorn, popcorn boxes (these were a HIT!), balloons and activities. Read the rest of this entry »