Clutter happens when we get busy and where are we busier then at our desks.  Let's get those desks cleared off so we can be more productive.
Step 1: Clear off the post it notes and scraps of paper and convert them to files on the computer. This doesn't need to be anything fancy…just have some Word documents open on your desktop labeled contact information, phone messages, notes etc. and write all of the information there.  Put the "to do" stuff on your calendar.  Go through all of those scraps and make the decision about whether you need the information.  If you do then make it permanent, if not then throw it out.
Step 2: Pare down papers.  I heard this somewhere and love it, Paperwork is like liquid. Once it's spilled it goes everywhere. And like liquid, it needs to be contained. Whatever paperwork you have on your desk should go somewhere other than on the flat surface of your desk.  Large filing cabinets are great…and necessary…but you also need to keep important files close.  For those files that you are always using I like this mesh desk organizer from Safco.  You can use the top sections for files and the bottom could store notepads, envelopes and other office supplies.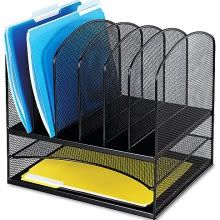 Step 3: Have everything you need at arm's reach.  On the surface of your desk should be those things that you use on a regular basis…your computer, phone, writing implements, paper, whatever you need to do your job. A good office caddy can make your pens, pencils, paperclips and other small supplies easily accessible.  I love this one from the people who make Post-it notes.


Step 4: Make good use of the drawer space. As with your desk surface, the things in your drawers should only be things that you need in order to do your job. Don't waste the space with things that don't belong in the office. If you are not sure whether you need to keep something try putting it in a box and hold onto it for a few months. If you don't need to take something out of the box chances are you don't need it. Using a good desk drawer organizer can help you keep a well stocked supply of the office essentials – pens, paperclips, notepads and anything else you use on a daily basis. In there, they're close, but out of sight.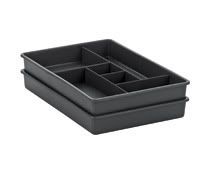 Step 5: Maintain. Before you leave at the end of the day put everything back where it belongs. I know you will say, "I don't have time to do this" but think about how much time it takes looking for a phone number or a file that is buried in a pile. Five minutes at the end of each day can save tons of time.
Next week we will tackle one of the biggest clutter holders in your house…the junk drawer
To catch up on this series:
Week 1: Flat spaces are not for storage
Week 2: dealing with mail and incoming paperwork
Week 3: The family calendar
Week 4: Getting a Handle on Kids' toys
5 Responses to "Finding the top of your desk"